For the average TV watcher, one remote is usually all you'll need to control your AV system. That's because a majority of households are still rocking cable boxes, and that set-top remote is typically capable of controlling the power and volume of a TV, soundbar, and sometimes even an AV receiver. Furthermore, certain streaming devices (Roku comes to mind) come with remotes that can have an additional component or two programmed into them. But sometimes that's just not enough.
If you're the owner of a monstrous home theater system with every AV component known to man, you might need a top-notch universal remote to control all of your equipment. In years past, Logitech's Harmony line was the go-to name for multi-device remotes, but it's been a minute since the company shuttered the popular universal controllers. If you can find one, however, the company still supports them. That being said, there are still a number of reputable options out there, and we've rounded up some of our favorites in the list below.
SofaBaton U2
The best overall
Pros
Controls up to 15 different components
Ergonomic button layout
Includes SofaBaton app for iOS and Android
Relatively inexpensive
Cons
No Wi-Fi controls
Not as advanced as the SofaBaton X1
Now that we live in a world without Logitech's much-lauded Harmony remotes (unless you're able to find a refurbished or used model), SofaBaton is the next best thing when it comes to universal remotes. With a few different options available, the all-new SofaBaton U2 builds upon the excellent tech of its U1 model, the biggest change is the inclusion of multiple IR receivers. This allows the U2 to control your line-of-sight components from much farther distances. That being said, you'll still need an IR extender if you plan on hiding gear in another room or behind closed doors.
The SofaBaton U2 is able to control up to 15 different devices at once, and you'll also be able to copy-paste your settings into the SofaBaton app (for iOS and Android) if you'd rather control your system with your phone or tablet. And like the previous model, the macro button will let you program multiple commands to a chain of peripherals, so in event that you want to watch a 4K Blu-ray, all you have to do is launch the "Blu-ray" command and all of your necessary components will automatically power and switch inputs.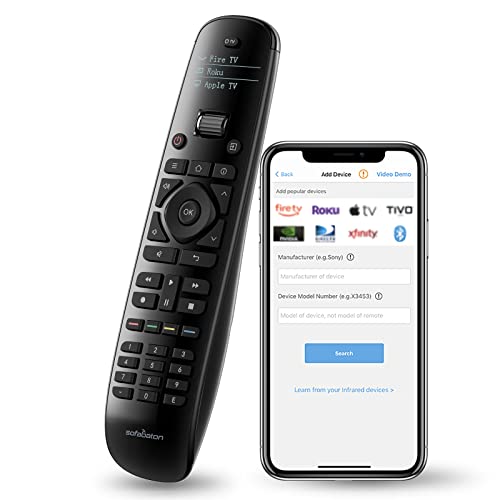 SofaBaton U2
The best overall
SofaBaton X1
The best fully-loaded universal remote
Pros
Controls up to 60 different components
Rechargeable USB-C battery
Can be used with Alexa and Google Assistant
Works with Wi-Fi, Bluetooth and IR
Cons
Pricey
A little too advanced for some A/V setups
If your home theater system includes more than 15 components, with many of them hidden behind a faux wall that blocks all IR signals, check out the SofaBaton X1.
The SofaBaton X1 is the best fully-loaded universal remote you can buy these days, and we're big fans of pretty much everything about it. You may notice that we feature both of SB's most popular remotes in our roundup, and that's because they're both fantastic; but the X1 delivers just a little bit more in every single way. For starters, where the U1 could only program up to 15 devices, the X1 will store up to 60. All of the X1 buttons are backlit, a small consideration that is very absent on the U1 model. And as far as the display goes, the X1 has a better interface when compared to the U1.
You'll also be able to connect the SofaBaton X1 to your home Wi-Fi, which will allow you to control your many components using both Alexa and Google Assistant; and the included SofaBaton hub will let you control devices that aren't directly in sight. It's one of the more expensive remote options out there, but if you're looking for the modern end-all-be-all of peripheral power, this is the way to go.
SofaBaton X1
The best fully-loaded universal remote
GE Backlit Universal Remote Control
The best bare bones universal remote
Pros
Simple operation
Backlit buttons
Easy, code-based programming
Dirt cheap
Cons
Only controls four devices
Can't learn missing commands
Infrared only
The GE Backlit Universal Remote does just enough, and sometimes that's all you need. This remote provides a straightforward way to control up to four devices using a host of pre-programmed codes while sporting a traditional design equipped with a basic D-pad and all of the most salient TV/media commands you could need.
If touchscreens and programming via a PC or mobile app feel too convoluted for your needs, the GE 48843 is a perfect choice: It's cheap — but not cheaply made — and it has everything you need to control your infrared devices.

GE Backlit Universal Remote Control
The best bare bones universal remote
One for All Smart Control 8 Universal Remote Control
Most powerful for infrared devices
Pros
Controls up to eight devices
Smartphone app-based setup
User-programmable macros
One of the Logitech Harmony's best features was its ability to group device commands into activities — macros that could be executed with a single button. And while the URC7880 isn't nearly as easy to program as the Harmony family, it does give you that same activity-based, one-button access to macros, which is a huge convenience.
Those activities can combine commands from up to eight devices, which should be more than enough flexibility for turning on your TV, your Blu-ray player, and your A/V receiver and then setting them to the desired inputs and outputs. The only caveat is that there's no way to exert control over these devices if they aren't infrared-compatible — the URC7880 uses Bluetooth to talk to the One for All app on your smartphone, but for some reason, it can't pair with any other Bluetooth device, like a game console or streaming media device.
In addition to the five available activities, there are three shortcut buttons that can be programmed to access your favorite streaming media services like Netflix, Amazon Prime Video, or Disney+. And if any of your devices' infrared codes aren't stored in the One for All online database, you can use the URC7880's learning function to grab them from your original remote.
The companion app can even act as a remote finder if you manage to misplace the URC7880. Our only real complaint is that this unit doesn't have backlit buttons for easier navigation in darkened rooms.

One for All Smart Control 8 Universal Remote Control
Most powerful for infrared devices
Amazon Fire TV Cube
The best for voice control
Pros
Directly supports cable/satellite set-top boxes
Same great Alexa integration
Fire TV OS is good, if busy
Incrementally better overall
Cons
Less simplicity with so many features
Yup, we know: The Amazon Fire TV Cube is not a universal remote. But hear us out on this one. What you may not know about the Fire TV Cube is that unlike all other Fire TV devices — and, frankly, unlike all other streaming media devices, period — it can control many of the other devices in your home theater. And you can use spoken commands to do it.
Buried within the Fire TV Cube's small box-shaped enclosure are a set of infrared transmitters. Just like any other universal remote, these can be programmed to emit IR commands for a huge variety of devices, including TVs, soundbars, and A/V receivers.
Within the Fire TV's interface, you can set up these devices, which can then be controlled using the Fire TV Cube's included remote, or for a true starship Enterprise experience, you can use your voice instead. Saying, "Alexa, open Netflix," can trigger the same sequence of commands as the Activities on a Harmony or One for All remote — your TV turns on, your A/V receiver turns on, and your Fire TV Cube opens the Netflix app. You're good to go.
There is one limitation: All of your devices must be IR-controllable. The Fire TV Cube has Bluetooth, but this is only used for pairing things like headphones and game controllers. However, if a device you want to control can be connected to your TV via HDMI, there's a good chance the Cube will be able to control it over HDMI-CEC anyway.
And because this is Alexa we're talking about, the Cube can also control any smart home devices you may want to use while watching a movie, like dimming smart lightbulbs or rolling down your motorized smart blinds.
Amazon Fire TV Cube
The best for voice control
Editors' Choice